At Off Track Ice Cream, found just off King Street in the heart of downtown Charleston, we create traditional and vegan ice cream in classic and inventive flavors. We make our ice cream from scratch using the freshest, Lowcountry-sourced ingredients and never any artificial flavorings, additives, or stabilizers because real just tastes better.
It all began in 2016 when we started making ice cream at home as a creative outlet. As we practiced and studied our craft, our passion for the art of ice cream making grew as did our desire to share our ice cream with others. Our philosophy on ice cream is different from other ice cream makers: we believe that ice cream should only be made from, and tastes best when it's made from, natural and fresh ingredients and stripped back of any and all inessential ingredients. This is why we make all of our ice creams from scratch starting with just four ingredients: cream, local milk, local eggs, and cane sugar. With the same philosophy in mind, we make our vegan ice creams with just raw cashews, organic coconut cream, sunflower oil, and cane sugar. From these bases, we create a variety of flavors using only real foods and clean ingredients that are essential to the flavor at hand.
We make every batch of ice cream by hand and are continually enhancing, tweaking, and perfecting our recipes. Our mission is to bring you the most flavor-packed, creamy, decadent ice creams possible, because you deserve great ice cream. Our Production Kitchen, located in the back half of our shop, is viewable through large floor-to-ceiling windows, so you can stop in to see for yourself!
It feels good knowing that we purchase many of our ingredients from local farmers and purveyors. Not only does this mean that we use fresh and sustainable ingredients, but this also means that Off Track Ice Cream gets to support our great Lowcountry economy. Check out our Partnership page to see who we've teamed up with!
We set out to open an ice cream shop in 2017, and in June of 2019, we finally opened our first scoop shop and production kitchen at 6 Beaufain Street in Charleston's Harleston Village. We hope you'll stop in soon to sample all of our ice creams and treats!
Get Off Track,
Marc & Alissa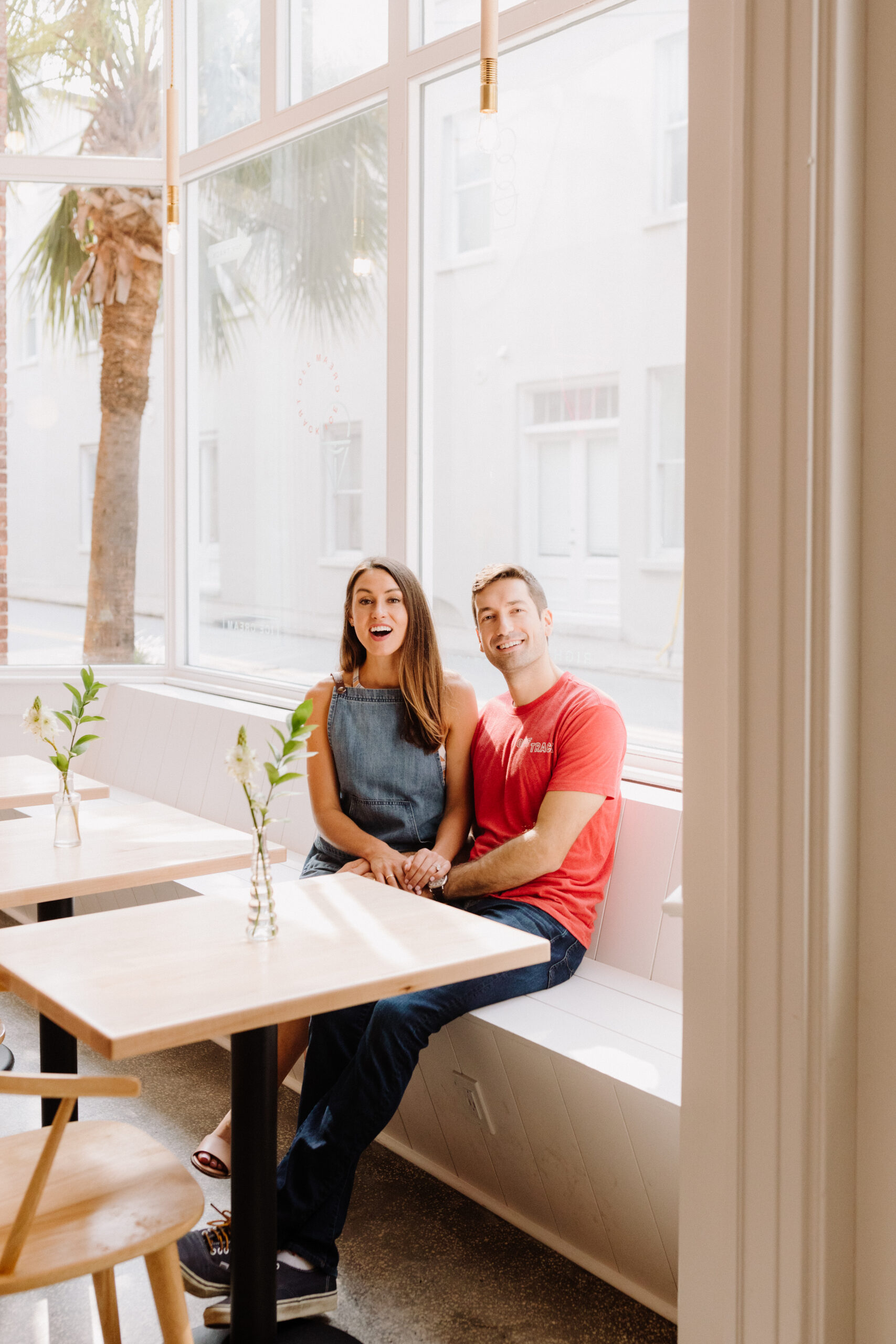 Order
Gift Cards
(Physical gift cards also available in-store.)